5 years ago already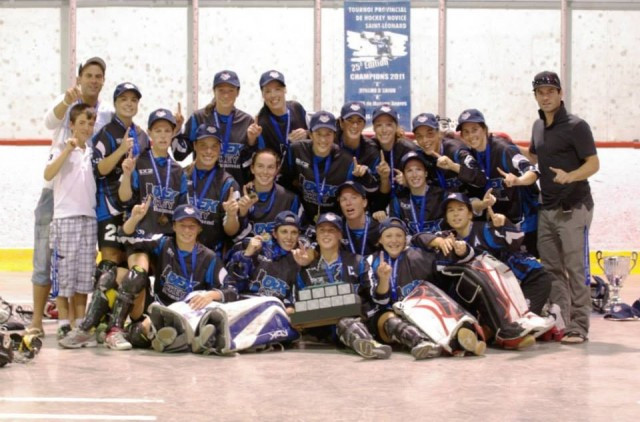 Thursday April 26, 2018
Five years ago, our province stood out in a great way at the CBHA National Championships 5x5, which were taking place in Montreal…
The women won gold (Dek hockey Drummond) AND silver (Dek Hockey de la Capitale) and made us so proud! Thank you ladies for all your hard work, we will never forget this special moment in our history.
Dek Drummond players :
Kateri Pelland, Anne-Sophie Bettez, Vanessa De Grandpré, Marie-Ève Provost, Sophie Lachapelle, Claudine Michaud, Janie-Claude Arpin, Josiane Bisaillon, Mélissa Roy, Mariane Camire, Anne-Liese Michaud, Catherine Herron, Martine Gousy, Ann-Marie Gélinas, Felicia Lemay, Amélie Lemay, Jessica Coletta, Marie-Eve Couture, Anne-Marie Cloutier, Sandy Roy, Carine Bouvier, Chantal Lampron.
Dek Hockey de la Capitale players
Stéphanie Savoie, Marie-Claude Allard, Lorraine Bourcier, Karine Demeule, Alexandra Roy, Catherine Guérard, Annie Wagner-Alain, Catherine Désilets, Franceska Perron, Véronique Carrier, Marie-Andrée Canuel, Priscilla Paquin, Julie Fleury-Roy, Sandra Boulanger, Claude Houle-Lavigne, Audrey Brouard, Geneviève Bénard.
#throwbackthursday #tbt #laballeorange #ahbq #qbha #achb#cbha #hockeyballe #ballhockey
Did you like this article? Share it!
x
Term of use Shark Media & Sport
The content of this site is private and purely informative. The rights of a visitor to this site cannot, therefore, be derived from the content of this website. This website is operated by and was created by SHARK MEDIA & SPORT. The data contained within this website are the intellectual property of and are copyright-protected. The data herein cannot be copied or reproduced without the prior consent of or SHARK MEDIA & SPORT, other than in contexts requiring on-line searches. However, you may print out entire pages of this site for personal use. For further information about the use of this site, please communicate with SHARK MEDIA & SPORT.